Undergraduate Poster Competition
Undergraduate Poster Competition
On Saturday, March 25, nearly 300 undergraduate students will present their research in the 27th annual Undergraduate Poster Competition.
Each year, the competition kicks off the ASBMB annual meeting and provides an opportunity for undergraduate researchers to practice their presentation skills and receive constructive feedback from a panel of judges to help them prepare for the presentations they will give later on during the main meeting. Undergraduates selected to compete will be organized into one of six topic categories, with a winner and three honorable mentions awarded in each category. All competitors will receive written feedback to help improve their presentations.
To participate, an undergraduate must submit an abstract to #DiscoverBMB as a primary author by the Nov. 30 deadline. In the abstract-submission form, they must indicate an interest in participating in the competition. Due to space limitations, not all who are interested in competing will be selected. Competitors will be notified in January.
"[T]hese events were a great point of conversation during my graduate school interviews and allowed me to develop public speaking abilities."
— Anna Corradi, University of North Dakota
Exhibitors
Want to showcase your graduate program at the poster competition?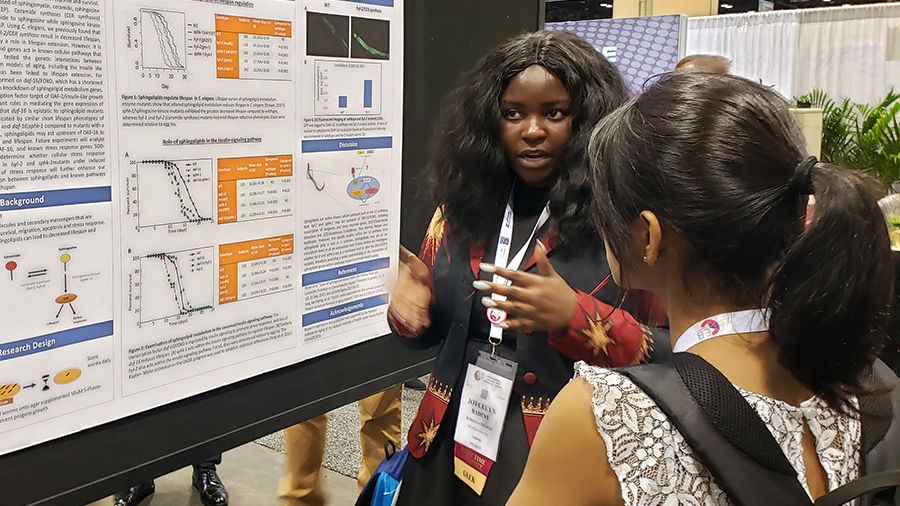 "We love to see undergraduates' hard work come to life"
The ASBMB Undergraduate Poster Competition is a must-attend event for scientists at all career stages.